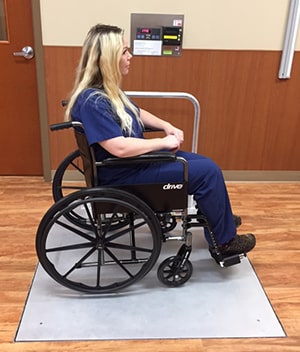 In 2009, The Scale People were approached by one of the top dialysis clinics to design and produce a weighing system that had very specific criteria. It must be easy to use, measure accurately and quickly and be low maintenance.
With this information, The Scale People produced a specialized Dialysis Weighing System, that is being used nationwide and becoming the standard for dialysis clinics.
The system includes a weighing platform for patients including patient in wheelchairs. There is an indicator that can be mounted to the platform or wall mounted. The indicator is simple and intuitive. It has a printing attachment that will quickly and easily produce documentation for patient records.
Our system is available in multiple configurations depending on your needs:
In-Floor: this configuration allows for easy load and unloading of the patient, especially those in wheelchairs.
Above Ground: no construction needed for installation and can be easily accessed.
Wall Mounted: perfect for clinics with limited space, this units can fold down from the wall to get patient weights.
Portable: having a mobile scale can allow for easy weighing of patient, including those receiving at home care.
Indicator: clearly and simple get weight measurements with our LED display. Indicator has printing feature that can produce paper or labels that can be retained in medical records.
Contact us
today to learn more about The Scale People Dialysis Scale RD6600.